On September 1, we had Ty's 3rd birthday party.
His real birthday is the 14th and we planned his party 2 weeks in advance on purpose since my due date was September 17th.
We wanted to make sure we had it early enough where I wouldn't be on bedrest or go into labor or have to cancel.
I also wanted this party to be great for Ty.
I didn't want to scale back despite my full term pregnancy.
I just feel like SO much of August was focused on Kinley and the end of summer and starting Kindergarten and I knew as soon as the baby arrived it would be ALL about the baby for months and for one hot minute I just wanted it all to be about TY.
And pretty much, he only got one minute because the minute this party was over, I started going into labor.
More on that later.
Ty is in love with trains....totally enamored by them.
I can't remember when exactly it started, but it escalated to full-force obsession after our visit to see the
big Thomas
at the end of March.
For months if you asked Ty how old he was going to turn he would hold up three fingers and say "I am going to be three and have a Thomas the train party."
My kids have always picked their own party theme and I try to just make their vision become a reality.
But, this was a steep request.
I knew his vision included THE big Thomas that we rode in Grapevine.
I knew that is what he wanted and I knew there was no way I could deliver.
Thankfully, it was a huge hit and did the job of toting the party guests around just like the big Thomas would have.
Since riding the train was the big party activity, I really didn't have to do much of anything else.
I didn't even make the invitation this time, which was a first for me. I just ordered it off etsy and printed it on the brown paper bag cardstock because I loved this one so much that I knew I couldn't make one I liked better.
It was either the crazy train ride or this electrical tape track on our sidewalk that sent me into labor I think. I definitely sat / squatted and scooted to do this track the day of the party.
For food, I got 10 bread pan tins and lined them up as trains on the kitchen table on a track that I drew with sharpie on a disposable green tablecloth.
Ben and Alex grilled hot dogs and we had cattle cars with hot dogs, a dairy car with cheese cubes, produce cars with fruits and veggies, snack cars with chips, a log car with pretzels, a coal car with oreos, and an animal car with animal cookies.
We had the filling station for drinks...
The cake...of course, was amazing and delicious and done by Mendy.
I constantly force her to do something new each and every party and she delivers like a champ everytime.
People ate outside in the backyard at the train tables.
These table facades were my biggest projects for this party.
These took the longest and I did them over about a week each night after the kids went to bed. It was so worth doing because every morning Ty would wake up and go find the trains that I was storing in the laundry room and pull them all out and line them up against the fireplace to see what was new from the day before.
Ben and I both loved how excited he was and Ben even made the comment "this totally makes it all worth it doesn't it?"
(I have to document that because most of the time for every party he thinks I am crazy but, not in that moment)
In the end we had Thomas, Percy and James and they made for some cute train tables on our backyard deck.
We also worked as a family and all painted a Thomas the train prop for kids to put their head through for pictures.
The family that crafts together.....
Very last minute Mendy helped me make the big chalkboard into a photo background. She did the writing and I made the train track and it took about 10 minutes.
So easy and I am so glad I did it because it made for some cute pics!
We blocked off our driveway so that when the train arrived it could pull right up to the house and pick up passengers for a ride.
I really can't tell you how much fun the train ride was.
We had the train for one hour of the party and everyone got to ride as many times as they wanted.
We just piled the kids on and sent them off.
Lots of train pics coming at you....
Ty even got to sit in the conductor's seat and blow the horn and pull the cord for the steam to let out.
He loved it.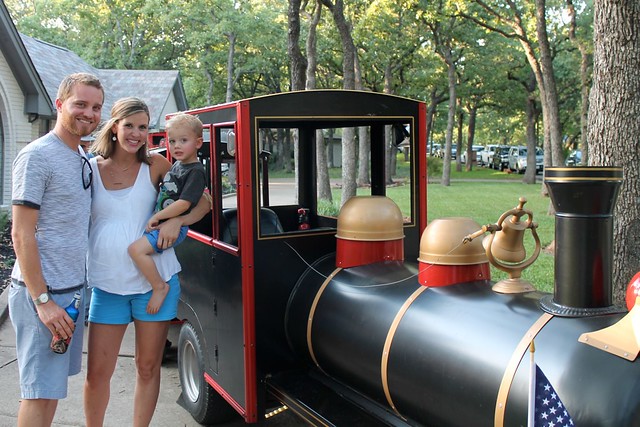 It was fun just hanging out waiting for the train to come back to see the look on the kids faces when they got back.
While the kids took turns on the train they could eat, color thomas pictures, get Thomas tattoos, play in the backyard or with any of our toys.
When the train hour was over we pulled everyone off and did the Thomas pinata.
I got this pinata off
amazon
and it was seriously so cute.
I wasn't even sure Ty would let us knock it to pieces because he loved it.
But, candy trumps all other desires and I think the fact that we now have three huge cardboard trains helps too.
After the pinata we sang happy birthday and ate Mendy's delicious cake.
Ty definitely spit all over the cake instead of blowing out the candles.
You are welcome party-goers.
Last pic of us as a family of four.
We spent some more time in the backyard taking pics and chatting it up after eating cake. Such sweet family and friends to celebrate Ty on their Labor Day holiday.
More pics with the Thomas cut out...
Sassy
Guiliana
Arabella
Parker
Payton
Katelyn
Camryn
And some family pics..
Pops & Gram with the birthday boy
all the Harrisons
Honey & Boss with the birthday boy
Honey & Boss with Ty & Kinley
most of the Howes
SO, SO glad Olivia and I got this picture.
I even remember making some comment like, this may be our last time to take a belly to belly pic while we are both pregnant!
(little did I know that 18 hours later I would have a newborn).
We went inside to open some presents.
And this is how Ty felt at the end of the party.
He was content and happy just sitting on the floor eating animal crackers out of a train car.
After everyone left these two enjoyed their last night as just the two of them showing off their engineer hats and deciding who could whistle louder.
It was the perfect end to a great night.
I will never forget your train party Ty-Ty!
Happy 3rd Birthday!